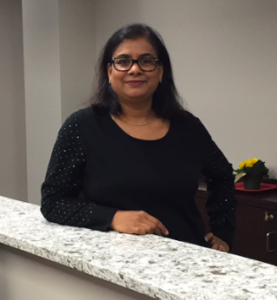 Sailaja G. Reddy, BDS, DMD
Dr. Sailaja Reddy is one of the kindest and most compassionate dentists you will ever meet. With her open and honest personality, Dr. Reddy is wholeheartedly concerned with providing individualized care to everyone who sits in her dental chair. She truly looks forward to seeing her patients on a regular basis – and learning as much as possible about their lives. Her personalized approach to dentistry is just one reason her loyal patients continue to visit her office year after year.
Dr. Reddy consistently promotes the benefits of a healthy smile and of excellent oral health. When patients arrive at her office with the desire to correct a dental problem, her first thought is always, "What can I do to help this person in the easiest and most economical way possible?" Her commitment to helping improve her patients' health is unparalleled when it comes to learning as much as possible about the latest advancements in dental technique and technology.
"The most important thing to me as a dentist is to meet new patients, and to see them smile. When I can help someone attain teeth that not only look beautiful, but that also function properly, I feel rewarded."
Dr. Reddy graduated from college in India in 1992 and from Boston University's School of Dental Medicine in 2000. She worked as an associate dentist from 2000-2015, and she has been the proud owner of Reddy Family Dentistry in Medina, OH since 2015.